Extensive Trail Networks
Suitable for walking, hiking, trail running and cycling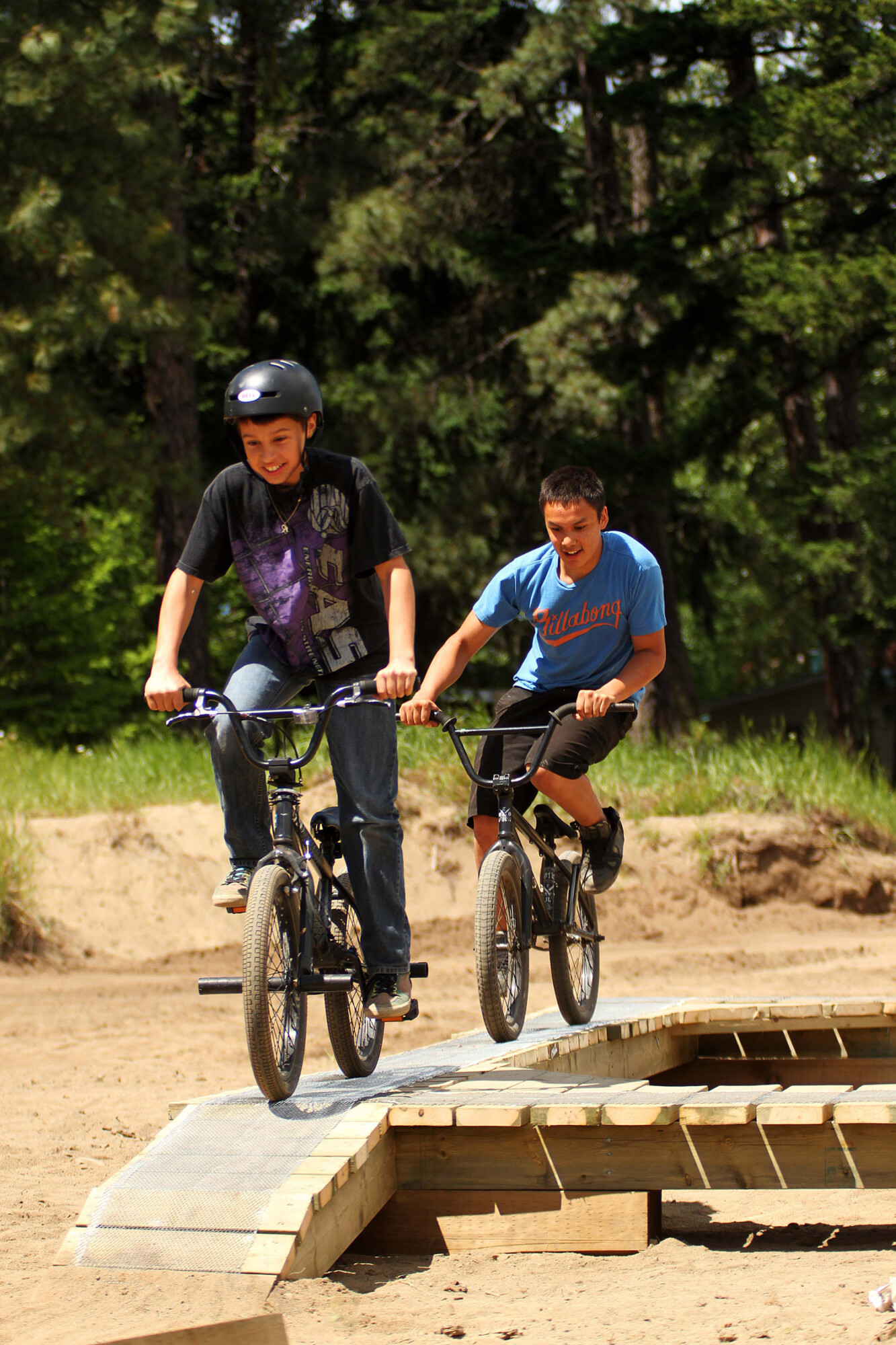 Bike & Skills Parks
where youth can develop and test their skills and courage. Pump tracks, wooden skills features, jump tracks.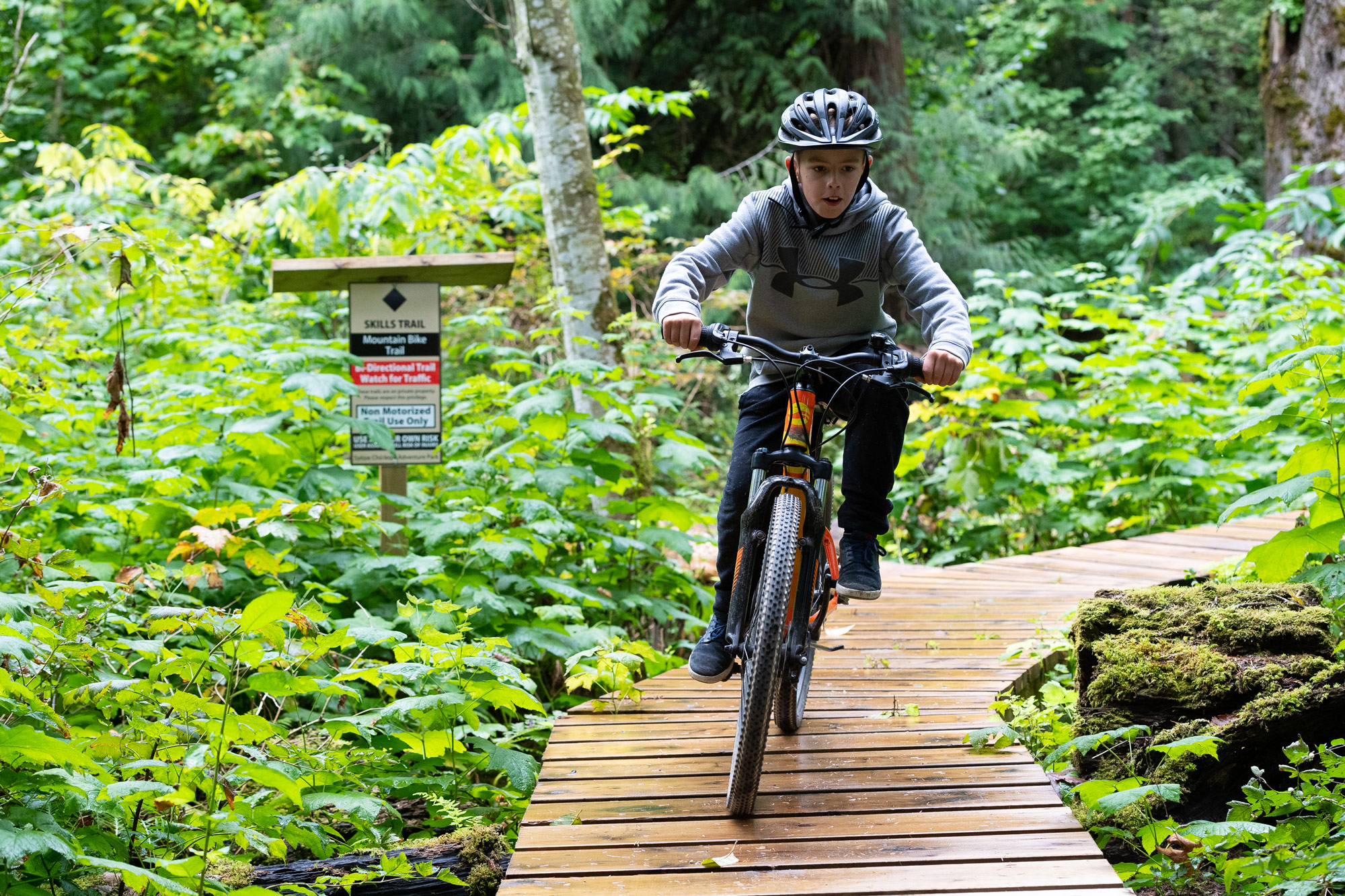 Pedestrian and Cycling Bridges
Enhance visitor experiences and provide access for people with diverse mobility challenges and needs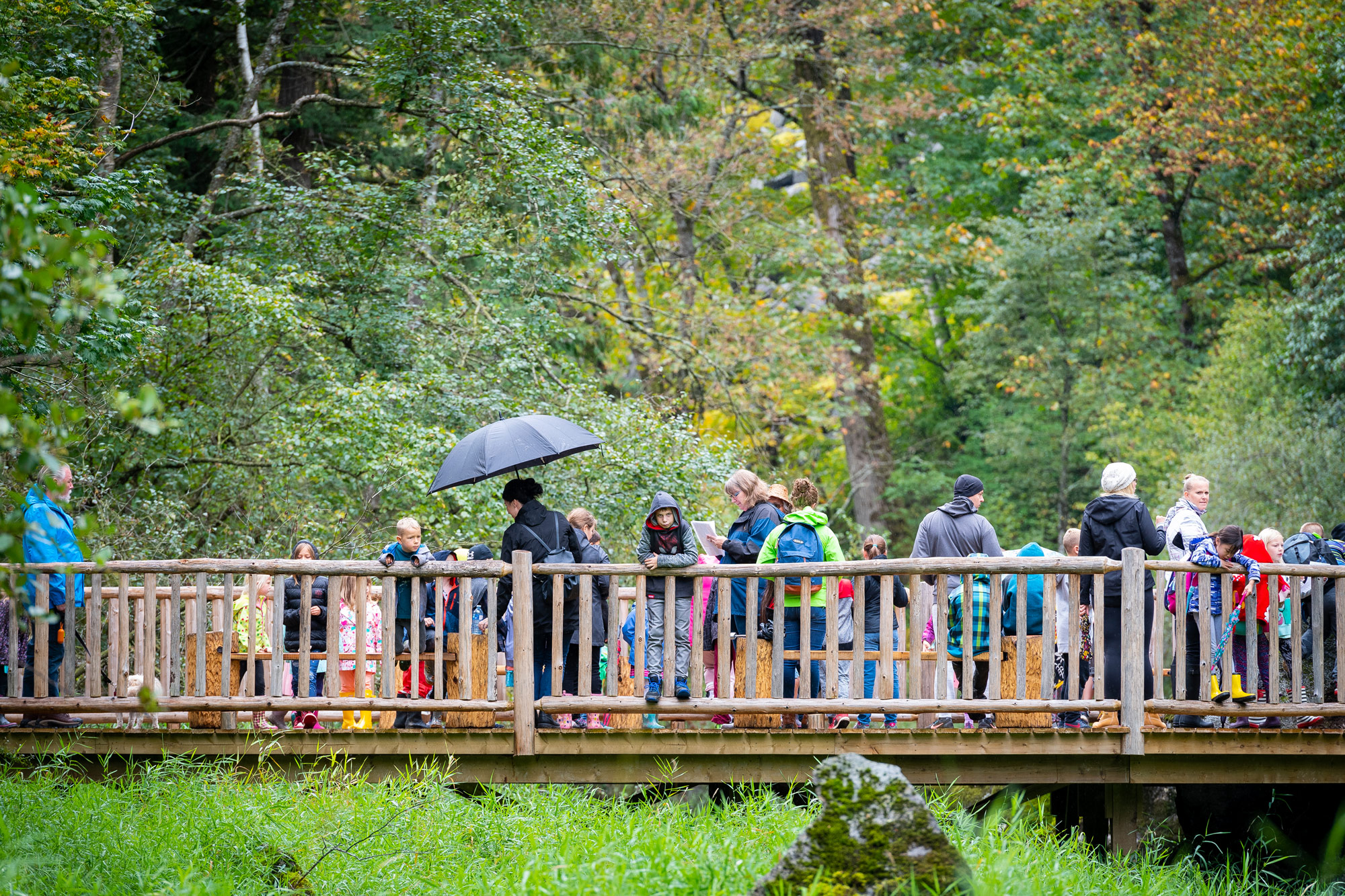 Viewing Platforms and decks
connecting people to the land and nature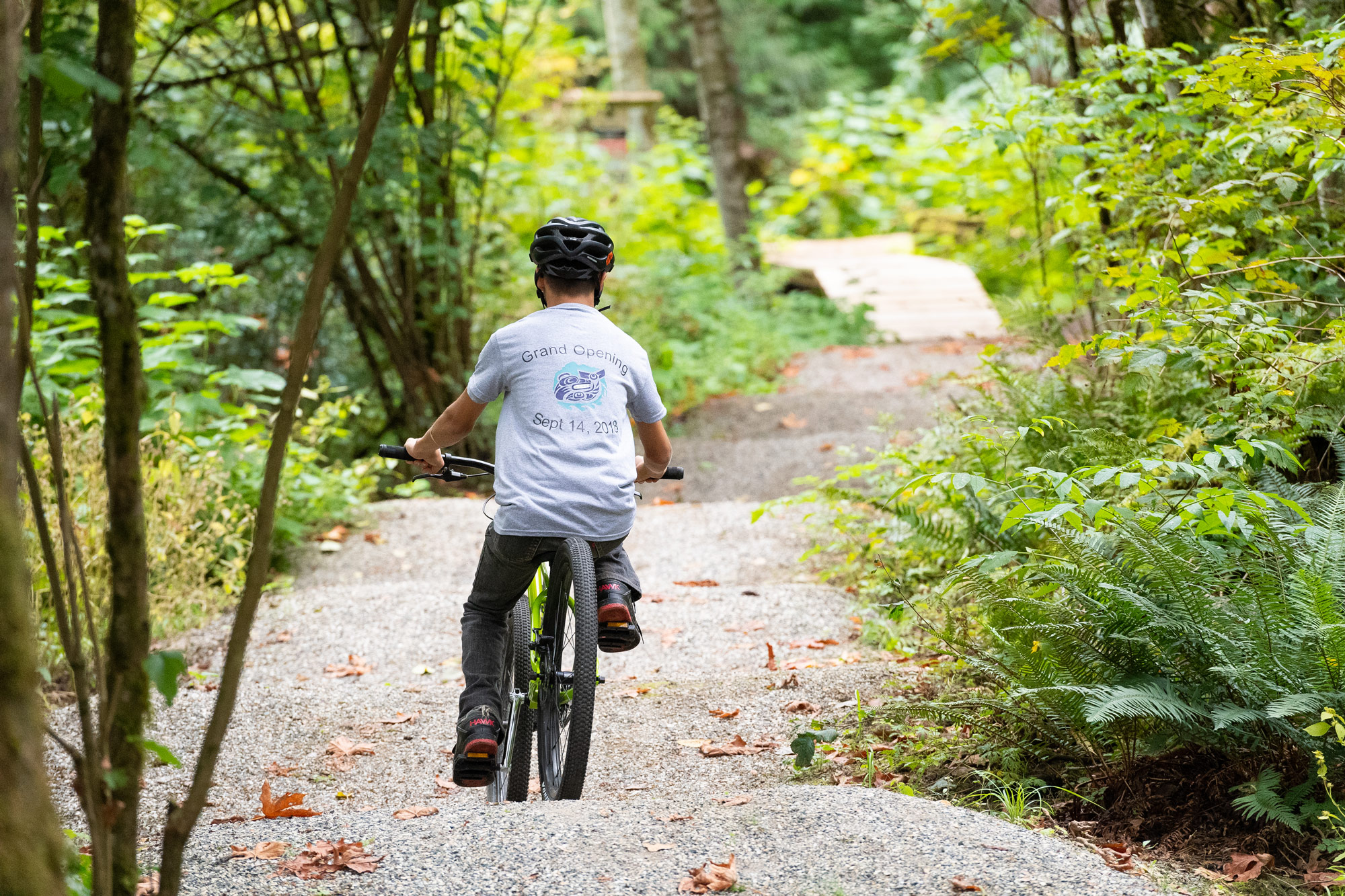 Pedestrian and CycliCommuter Trails & Active Transportation
This is a question we get all the time. For so many First Nation communities, often the only place to recreate, exercise and play, is a busy road that runs through the community. We have worked with numerous communities to design and build multi-purpose trails that connect community members to their schools, health centres, administrative offices and much more, providing safe places to hike, walk, dog-walk and cycle.
Check out our most recent commuter trail built by pro builder James Doerfling with the Canim Lake First Nation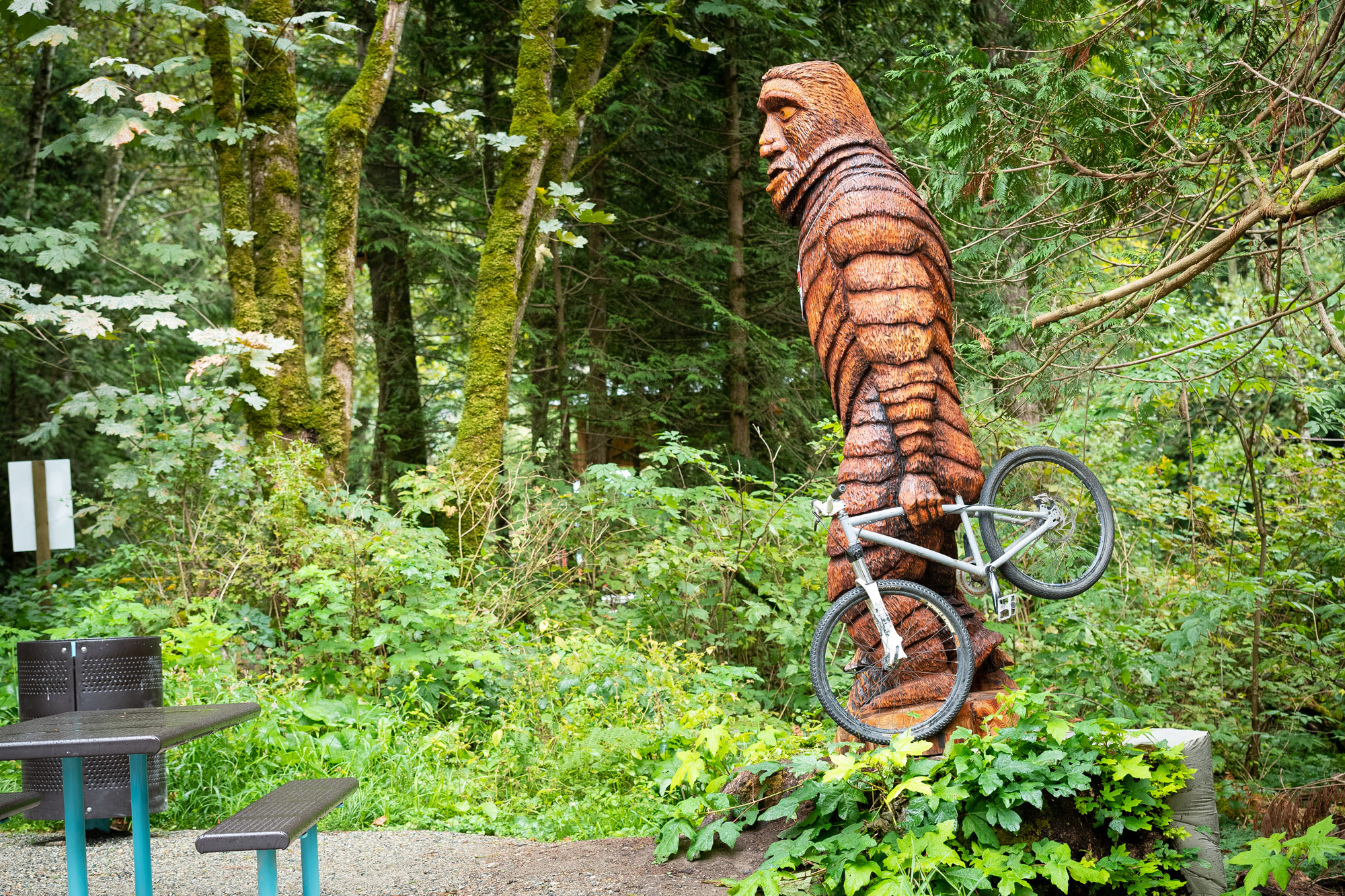 Indigenous Art & Trails
One of our favourite things in the whole world is learning how the trails we've built with First Nations are being used in ways we never expected. Many communities have begun to incorporate art in to their trails as a means of storytelling and to highlight the spiritual connections between people and the land.
Check out the art trails of the Syéxw Chó:leqw (Rockslide in the Forest) Adventure Park, an art and trails park we built in partnership with First Journey Trails and the Sq'ewá:lxw First Nation
People loved hearing about the history of the AYMBP, and your progress in so many different communities. It was informative & inspiring!

Tyler Jordan, President, 7Mesh Cycling Apparel All testimonials →
Want to explore options for your community?
Call or email us today!
Patrick Lucas
Executive Director & Founder
---
Thomas Schoen
Director of Trails & Park Development & Co-Founder
We have successfully assisted dozens of First Nations throughout British Columbia, including:
Ucluelet First Nation – Yuułuʔiłʔatḥ Government
Ka:'yu:'k't'h'/Che:k:tles7et'h' First Nation
Canim Lake First Nation
?Esdilagh First Nation
Big Bar/Canoe Creek First Nation
Lhtako First Nation
Village of Gingolx, Nisga'a Nation
Skawahlook First Nation
Boston Bar First Nation
Penticton Indian Band
Simpcw First Nation
Xat'sull First Nation
Yale First Nation
Boothroyd Indian Band
Huu-ay-aht First Nation
Iskut First Nation
Heiltsuk First Nation
Lil'wat First Nation
Xeni Gwit'en First Nation
Musgamagw Dzawa'daenuxw First Nations
Ulkatcho First Nation
Kwikwasut'inuxw Haxwa'mis First Nation
Stellat'en First Nation
Nadleh Whut'en First Nation
Yunesit'in First Nation
Taku River Tlingit First Nation
Lake Babine First Nation
Gitlaxt'aamiks, Nisga'a Nation
Penelakut First Nation
Kitasoo/Xai Xais First Nation
Williams Lake First Nation
Tahltan First Nation
Esketemc First Nation
West Bank First Nation
Shacken First Nation
Nuxalk First Nation
We Wai Kai First Nation
Tsi Del Del First Nation